TripVillas.com, the leading vacation rental listing website in Asia has made several changes in its registration process to make it easier for owners of holiday homes to register their properties in the website and subsequently start taking bookings from guests. So I thought why not write an article on the listing process which can be completed in just 4 easy steps.
Why I vie for registering with TripVillas.com is because it's absolutely free and you need to pay a small commission only on the booking amount. This means that if you are not earning, you need not pay anything.
For owners who have just started their vacation rental business and want to register and list their properties, just follow the easy steps shown below and start getting inquiries instantly:
OWNER REGISTRATION:
Before you list your property, you need to first register. If you are already registered, you need to login with your email (used during the registration) and the password you had chosen during the registration. If you have not registered yet here's how to do that:
STEP 1: Click on the 'Owners: Register here' button on the top right hand corner on the homepage:
STEP 2: This will take you to the 'List Your Home' page where you need to fill in the personal details of yourself which will be linked to your account. Make sure that you give your correct details – email and mobile number – because any inquiries travelers will send will come to this email or mobile number (is case of SMS). You will receive a confirmation email with the link to the listing page.
LISTING YOUR PROPERTY: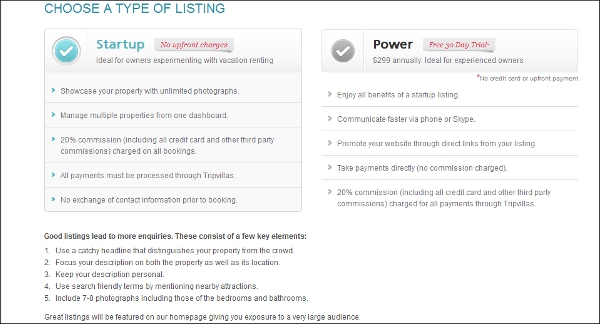 Once you have registered, you can now list your property in four easy steps. But before that, you need to decide whether you want to go for a Free Listing or TripVillas' Power subscription. While you do not need to pay any upfront fees for any of these subscriptions, the Power listing gives you all the benefits of a free listing, plus it gives you the option to add links of your personal website in the listing, communicate directly with travelers via phone or Skype and take direct payments which will not be charged. For now, let's take the free listing procedure of your holiday home on TripVillas:
STEP 1: The first step is to give a good catch headline that best defines your property. Know more about how to give a good headline by clicking here. Then select the property type and whether you want to rent a couple of your rooms or the whole property. Also choose the maximum number of guests your property can accommodate from the drop-down. Make sure that you enter the right location/ address of your property. Based on this information you can set the marker on the map. Please note that for your security, the exact address of your vacation home will be shown only to travelers after they have made their payments. Click on the Save and Proceed button to go to the next step.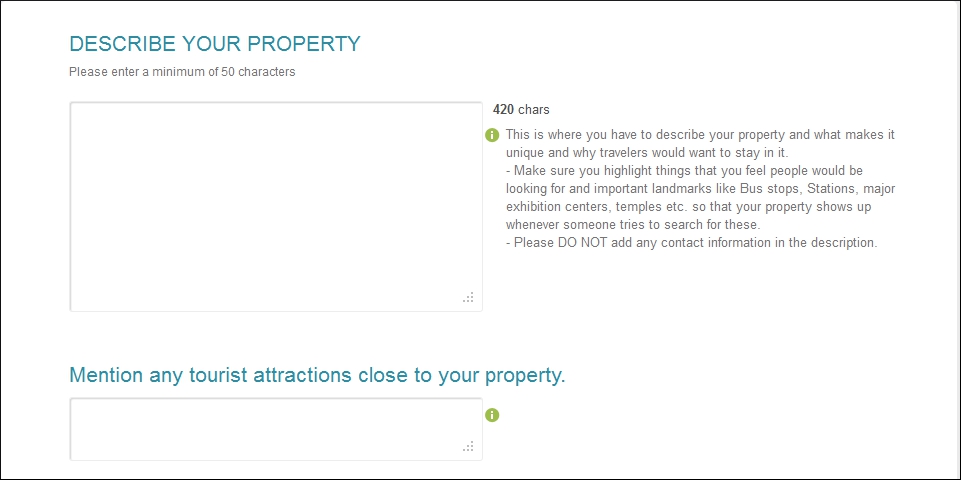 STEP 2: This is the most important part of the listing – the description. The description will determine whether a traveler will book your property or not. If you are not sure what to write click here to read our article on how to write a good description. Here again, what I like about TripVillas.com is that it allows me as an owner to choose from a wide range of options including, writing about tourist attractions close to my property, or selecting holiday moods that best suit my property, amenities, conveniences, luxury amenities, restrictions, activities near or in my property, etc. Selecting these make it easier for travelers to decide because they come to know a lot about the property and clear all doubts they might have.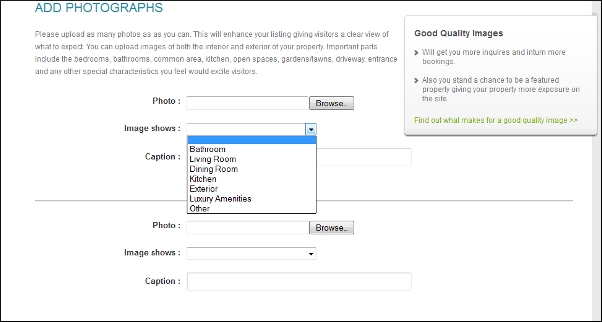 STEP 3: Now is the time to add photographs of your holiday home directly from your computer. From the dropdown you can choose what the photograph depicts and also add a caption to it. Since TripVillas.com allows owners to upload unlimited images, make sure you upload images of both the interior and exterior of your property. Upload photographs that include bedrooms, bathrooms, common area, kitchen, open spaces, gardens/ lawns, driveway, entrance and any other special characteristics you feel would excite visitors.
Here are some tips:
Upload pics of your garden/ driveways entrance

Highlight surroundings the traveler is going to live in

Upload images of your bedroom to show how comfortable the stay will be

Add images of your kitchen

Upload images of your bathroom with emphasis on items of luxury (if any), etc.
STEP 4: This is the last step before your listing is live and you start getting inquiries. You now need to add your rental rates, choose whether you want a 'Book Now' button, are meals included and additional details (if you opt for a Power listing). Please note that you can add your rates on a daily or monthly basis.
Once done hit the 'Save and Finish' and your listing will appear in the moderator's queue for the final approval. Once the moderator of TripVillas approves the listing, you will be notified via email that your listing is live and you are ready to receive inquiries.
Still have doubts? Watch our video tutorial to know more about listing your property on TripVillas.com!
To get more information & assistance, please submit the form below and our specialist will get in touch with you at the earliest.