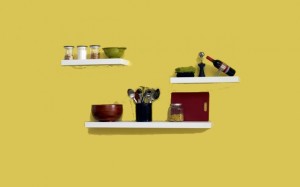 Till a few years ago, shelves were only used to keep books. Most home owners underestimated the role of shelves in decorating their home. But now they are being used as design elements in their own right.
"Combine-use" structures are in vogue these days. Wall units come with book shelves, a space for the TV and are also fitted with drawers for storing DVDs and knick knacks.
Shelves occupy not only physical space, but also visual space:
A shelf takes up both physical and visual space, thus defining the focal point of the area.
What do you showcase on shelves?
If you aren't sure what to showcase on your shelves, first consider what you as the owner love the most or what you'd like your visitors to view in your home and associate you with, later. Your interests and hobbies should come through in your choice of shelf design. Shelves should create spaces reflective of your everyday life instead of adding to clutter and making the room look smaller.
Before working on the design and placement of the shelf, there are some essential elements to take into consideration:
Make the most of the space you have. A shelf can be created on the most prominent wall of the living room or even under the staircase.

Do you want a stand-alone or wall-mounted unit?

Will the shelf act as a space divider or will it be open from both sides?

Is it being made for an adult or a child?

What do you need to store – only books, or CDs, or other decorative artifacts as well?If you want to display decorative objects, it is a good idea to make the shelves seamless and discreet so that the objects really stand out. For displaying books and CDs, it's a better idea to opt for shelves with niches.

Do you want the self to be all covered, exposed or a combination of both?

Is there enough natural light or you need to work on the lighting too?
Design Elements:
Also lay emphasis on the design elements of individual shelves. Motifs like classical, fusion, futuristic and sleek or typical English, etc. should be selected keeping in mind the theme, if any, of the room.

Ideally, versatile designs

go a long way in making the shelves unique because designs can always be customized.

Unique technical refinements like flush front doors, sliding doors – both vertical and horizontal – can add to the look.

Considering the various weather conditions, basic materials used should be wood, glass, stainless steel and leather which are more resistant to the elements. Other materials include teakwood or teak-board which with a good finishing can give a classic look.

For a contemporary look, one can use polished veneer, matt-lacquered veneer and laminates.

For a fresh look and feel, use materials like clear glass, frosted glass, coloured glass and a combination of any wooden finish
For the finish:
Choose from an array including veneer, lacquered, natural oak, cherry wood gold, high-gloss white and black and oak anthracite can be used.

If there is less natural light in the room, light and reflective materials like glass and polished lacquer surfaces can bring a touch of lightness to shelves. If there is too much natural light, dark-coloured and sturdy shelves can enhance the design.
To get more information & assistance, please submit the form below and our specialist will get in touch with you at the earliest.