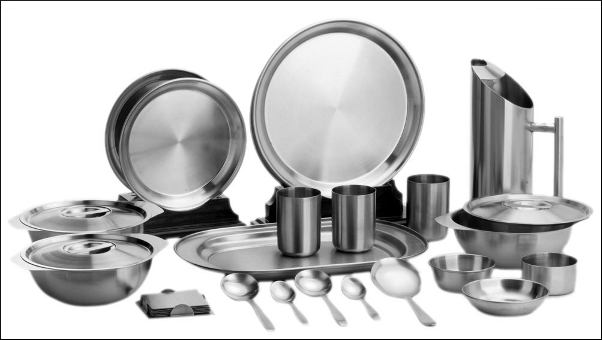 Gone are the days when stainless steel tableware was considered to be cheap and not appropriate. However in the last couple of years stainless steel tableware has made a comeback and has gained popularity and acceptance amongst the affluent class too – thanks to improvements in quality and availability in various styles and shapes. Today's stainless steel tableware are available in a wide range of different styles and designs, all of which take advantage of the gentle sheen of stainless steel. With easy cleaning, stainless steel tableware retains its attractive appearance forever.
Although I would not suggest stainless steel tableware for very formal dining, nevertheless, for casual dining it can be a good option, particularly for holiday homes and homestays, where dining among guests are more casual. Having said that don't go for the usual cheap variety. Instead go for a dinner set with matte finish. These look good and are available in various innovative shapes.
The reason why I feel stainless steel tableware is good for holiday homes and homestays is because it is durable and easy to clean. For guests with kids, stainless steel tableware is the best option too! Since you are not there to oversee the day to day maintenance of the property and have to rely on a domestic help to get the chores done, you will be looking for something easier to care for and maintain, then stainless steel tableware is the right choice for you!
Good quality stainless steel tableware is non-rusting, non-tarnishable and stain resistant. They are resistant to scratching and wear and tear and the tableware will look almost as good as new after many years of use.
Because stainless steel tableware require much less effort to clean, and can be used with even the most acidic food, they are invaluable for holiday homes and homestays where tableware needs to be cleaned quickly before being reused.
However always keep aside another dinner set – other than that of a stainless steel set – in the property, for times when there is a formal dining occasion.
To get more information & assistance, please submit the form below and our specialist will get in touch with you at the earliest.