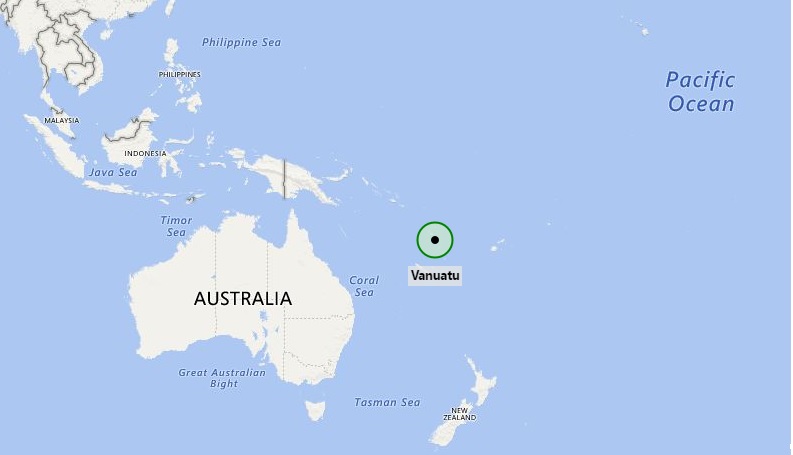 Key Facts:
Climate – tropical; moderated by southeast trade winds from May to October; moderate rainfall from November to April; may be affected by cyclones from December to April
Population (2020) – 307,815
GDP (Per Capita) (2018) – $3,327
Official language – Bislama, English, French
Major religions – Christianity (93.3%), Folk Religions (4.1%)
Ethnic Groups – Ni-Vanuatu (98.5%), Others (1.5%)
Government – Parliamentary Republic
Currency – Vanuatu Vatu (VUV), $1 = 113.616 Vatu
Taxes – In Vanuatu there are no taxes affecting individuals other than import duties (at varying rates), VAT at 12.5%, a tax on rental income over $1,770 in a 6-month period of 12.5%, and stamp duty on some property transactions, share transfers and some other transactions at rates of up to 1% (minimum $22). The Government levies fees on the acquisition of land, charging 2% of the unimproved capital value as a registration fee and 5% of the unimproved capital value as stamp duty. Although there are no State social security contributions as such, employees and employers contribute 6% of salary each to an approved superannuation scheme, usually the Vanuatu National Provident Fund.
Residency by Investment:
You may apply for a Residency Permit as a contracted employee granted a Work permit to work in Vanuatu, as a retiree with an established income of a minimum of $2,655 per month or as an investor. This is issued for a minimum of 1 year to a maximum of 10 years based on the value of your investment in the country.
Citizenship by Investment:
Month 1:
Step 1:
Sign CI Retainer Agreement and pay Due Diligence fees to submit basic required documents for initial approval by FIU (Vanuatu Financial Intelligence Unit). Approval in Principle is issued by FIU. Remaining documents are submitted and 25% of the Government contribution is payable.
Month 2:
Step 2:
Citizenship Approval is issued and 75% of the Government financial contribution is payable.
Step 3:
Citizenship Certificates and passports are issued.
Why it makes sense?
Vanuatu Citizenship and 2nd passport in 2 months
No requirements to reside in Vanuatu
Vanuatu allows dual nationality
Vanuatu passport allows Instant travel to 125 countries including Schengen countries, UK, Hong Kong and Singapore with more countries constantly being added to the list
Vanuatu has no income tax, wealth tax, capital gains or inheritance tax
Simple and fast document collection and fund transferring process
Spouse, children under 26 obtain a second passport
Parents over 50 can be included in one application
To request the most current information regarding this program please contact us below.
To get more information & assistance, please submit the form below and our specialist will get in touch with you at the earliest.