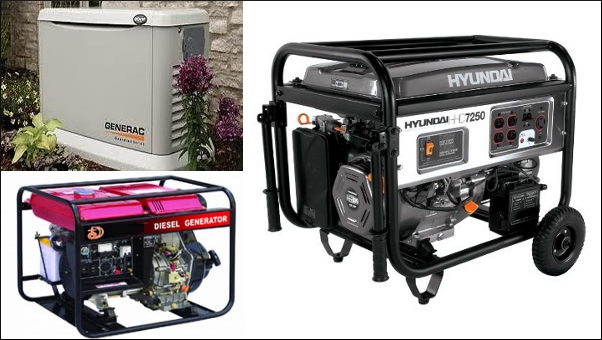 For long you have been toying with the idea of buying a diesel generator for those hot summer days at your holiday home, when public electricity supply is erratic and you require uninterrupted power to run your appliances for a comfortable stay indoors.
Experts invariably opine that the most economical way to supply power during a power outage is to use a home generator of the appropriate wattage for your needs. The homeowner can have an electrician install a power transfer switch, connected to the house's main electrical panel.
Although most homeowners opt for portable gasoline-powered home generators, they soon find that it is not enough to meet their household needs. There will be several appliances which might need to be used like TVs, kitchen appliances, hair dryers, power tools, lights and other appliances which one cannot do without. As such, the more powerful diesel generators come handy. Unlike the diesel home generators of the past, generators today are noiseless and provide clean and reliable power to operate anything you want.
Having said that, buying a diesel generator for your holiday home requires a little intelligence, unless you want to get stuck to the wrong one for years to come. So, here are some areas which you need to keep in mind before you make the purchase:
How much power do you need: Selecting a generator for your holiday home should not be left to the last minute. Careful preparation will ensure you have time to select and learn how to operate it and have it installed if necessary. A backup home generator should power all essential items. For some this may mean just a fridge and a few lights. For others essential items may include medical equipment, TV for the kids, heating and air conditioning, water pumps and so on. Perhaps you want to continue living normally as if no power failure ever occurred in the first place? You may want to restore power to your whole holiday home. This is all possible if you select the right size generator. All of them have different power capabilities.
If you are not sure how much power you would need, tell your electrician your needs and ask him how much power would be required to run them. Once you know how much power you require, it would be easier to pick the right generator.
Why go for a diesel generator: Diesel generators remain the number one choice for emergency power systems worldwide. Diesel produces much more power, costs less to operate, is safer to store because it is not as volatile as gasoline. A longer life and lower operating costs make diesel engines popular in trucks, trains, farm equipment, and every other heavy piece of machinery. Today diesel generators produce less harmful emissions then gasoline and virtually no visible smoke.
OTHER PRODUCTS YOU CAN USE FOR YOUR HOMESTAY/ HOLIDAY HOME:
Now a problem we always have as vacation rental owners or holiday home owners who have visitors staying over and no permanent caretaker is how to hand over the keys to our customers. In some locations, we are lucky to have key-holding services or property management companies who can hand over the keys and inspect our properties on checkout. I […]
Hi everyone, I recently had a good opportunity to try installing an airbed in one of my properties. As Vacation rental and homestay owners, we always run short of space for our guests and I personally feel that sound sleep is an important part of guests relaxing on the weekend. I have been hearing of Airbeds for some time now […]
Customized tiles: RAK Ceramics' Nanopix tiles incorporate high definition nanometer photographic technology that produces homogenous high-resolution designs even along edges. The finishes available are glazed, natural and lapato. Size options include: 60cm x 60cm (9.5mm) and 45cm x 90cm (11.5mm). Suitable for both wall and floor applications, they can be used inside and outside. Customization of an image is […]
Whether it's you and your family who come to enjoy a vacation or you are running a vacation rental business, new-age technology today offers a wide variety of solutions to ensure that your home is not only safe, but also adds value. With several appliances and electronic gadgets being introduced in the market every other day, here are some gadgets […]