Bengali cuisine is a culinary style originating in Bengal, a region in the east of India, which is now divided between the Bangladesh and the West Bengal. Bengali food is one of the most important cuisines in India, which has been majorly influence by history trends. It still holds its authenticity over 1000 years, though they were once ruled by Mughals and British.
Bengali food has inherited a large number of influence, both foreign and South Asian – through strong trade links from many parts of the world. It also saw immigrants from various parts of the world – Chinese in west and Afghans in east.
A distinct culinary tradition emerged in Bengal based on the availability of local ingredients. Rice is the staple food complimented by fresh water fish. Mustard oil is used in the cooking and has a distinct taste. With the introduction of Islam, Bengali Muslims adopted dishes such as kababs, koftas and biriyani from their Mughal conquerors. But the major portion of Bengali Hindu cuisine retained its original characteristics except that the use of onion and garlic became more popular. The European traders introduced food from the new world – potatoes, chillies and tomatoes. Dishes are carefully prepared according to recipes handed down through generations. Modern Bengalis have become culinary innovators, although they are rooted back to their traditional cuisine.
Historically, food in Bengal has always been strongly seasonal. The range of food materials in moist and fertile Bengal is exceptionally wide, ranging from cereals, tubers and rhizomes, vegetables, green pot herbs to a variety of spices and fish. Bengalis also eat flowers like those of pumpkin, banana, raw jackfruit, water reeds, tender drumsticks and peels of potato or pumpkin.
East and West Bengali cooking differ both in the choice of spices and the way in which the dishes are prepared. Both employ mustard in three different ways- fried in oil, carefully crushed leaving a pungent paste, and as a cooking medium. East Bengalis prefer fish from big rivers, and the West Bengalis prefer the fish bred in tanks or from estuaries, like mangor and tapsee, but the river fish hilsa is a universal favorite. Meat is readily consumed in urban parts of Bangladesh and some consider it the meal's main course. Khashi mutton or goat meat is traditionally the meat of choice, especially West Bengal, but murgi or chicken and eggs are also commonly consumed. Beef is popular in Bangladesh, and has become popular amongst many non-muslims in West Bengal ever since rise of communism. Potato is widely used in most of their dishes and don't be surprised to find some in their biryani. West Bengali food is strong on milk-based sweets and on fried snacks like kachudi and singhada.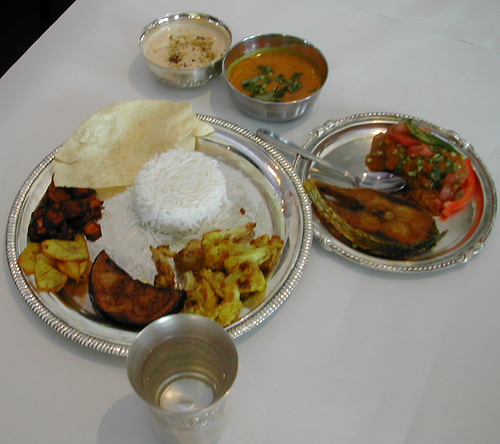 Bengalis love their food and love to socialize over food. Some of the must have dishes in Bengal:
Bengali Meals – A typical Bengali lunch meal will consist of  rice, first savored with ghee, salt and green chillis, then comes dal accompanied by fried vegetables (bhaja) or boiled vegetables (bhate), followed by spiced vegetables like dalna or ghonto. The meal is accompanied with fish preparations, first lightly-spiced ones like maccher jhol, and then those more heavily spiced, after which would follow a sweet-sour ambal or tauk (chutney) and fried papads. A dessert of mishti-doi (sweet curd), accompanied by dry sweets, or of payesh, accompanied by fruits like the mango, will end the meal, with paan (betel leaves) as a terminal digestive. The night meal omits shukto (mixed vegetable) and could include luchis (deep-fried flat bread), a palao and a dalna (thicker gravy dish) of various delicately spiced vegetables.
Street Foods – you will find colorful and small little stalls selling some of the best food. Street food is a must try and they are not only cheap on your pockets but giving a more local taste. Some of the food that you can try – jhal muri/bhel puri ( puffed rice with chutneys and chopped salad), rolls (stuffed with meat or cottage cheese), ghuni chat (lentil/masoor dal cooked in Bengali spices, garnished with sev), phuckka, a very popular snack and a must try(consists of a round, hollow puri, fried crisp and filled with a mixture of water, chutneys and potato). Lassi and tea stalls are also commonly seen.
Chinese food in Kolkata – Chinese food or Indian Chinese is very popular in Kolkata. Eating Chinese food for Bengalis signifies "eating out or going out". Don't be hesitant to try some of the Indian Chinese versions available on street or at a restaurant.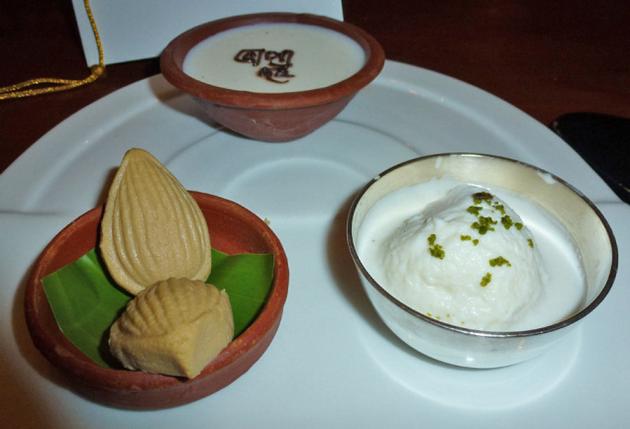 Bengali Sweets – The sweets of Bengal are generally made of sweetened cottage cheese (chhena), khoa (reduced solidified milk), or flours of different cereals and pulses. Some important sweets of Bengal are:
Shondesh
Made from sweetened, finely ground fresh cheese, is among the most popular Bengali sweets. A few hundred variants are available and another variant is the korapak or hard mixture, which blends rice flour with the paneer to form a shell-like dough that last much longer.
Roshogolla
Roshogolla is one of the most widely consumed sweets. The basic version has many regional variations like Pantua (similar to the roshogolla, except that the balls are fried are deep fried), Chomchom (oval-shaped sweet is reddish brown in color and it is of a denser texture than the roshogolla).
Several varieties of yoghurts such as mishţi doi, custards, and rice pudding (khir or firni) are also popular in both Bangladesh and West Bengal.
Shondesh, chhanar jilepi, kalo jam, darbesh, raghobshai, paesh, nalengurer shondesh, shor bhaja and an innumerable variety are just a few examples of sweets in Bengali cuisine
Bengali sweets also make the best take back home goodies.
To get more information & assistance, please submit the form below and our specialist will get in touch with you at the earliest.