Owners of vacation rentals ideally try to weigh the pros and cons of going for a free listing versus a paid subscription with vacation rental listing websites. While both have their own benefits, which can fulfill the ultimate goal of an owner – that is to get maximum renters, let's take a look at the two listings offered by TripVillas.com, the leading vacation rental listing website of Asia.
TripVillas.com offers two listing options for owners, which are equally beneficial. One is the free listing and the other Power Listing which comes with a $299 annual subscription fee. Ideally I would have recommended the free listing for beginners and the Power Listing for owners who have been in the business for quite some time. Both subscriptions allow you to add unlimited images and properties and gives you access to a very user-friendly interface (dashboard) from where you can manage your properties, update your availability calendar, etc.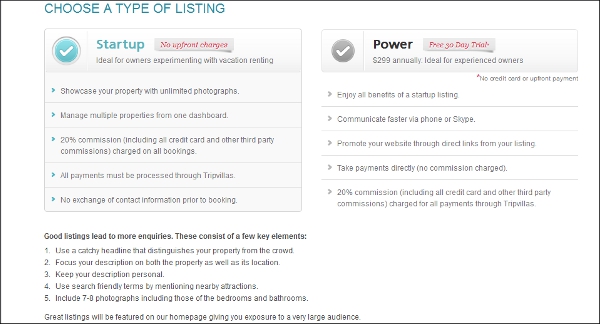 However TripVillas.com is currently offering a free 30-day trial on its Power Listing for all owners, so I would definitely like to recommend the Power Listing for owners who are seriously looking at making his vacation rental business a profitable venture. The reasons being you will not only get all the benefits of a free listing you will also get additional benefits that include:
1. First of all even if you decide to go for the 30-day trial of the Power Listing you need not give any credit card information or make any upfront payment.
2. The 30-day trial of the Power Listing enables prospective renters to communicate with you directly because your contact details will be displayed in your property listing page. This means travelers can communicate with you faster via phone or Skype. Ideally when you have a free listing, all communication go through TripVillas.com's system.
3. The 30-day trial of the Power Listing also gives you the opportunity to promote your personal holiday home website through direct links from your listing.
4. The best part of the 30-day trial of the Power Listing is that you can also take payments from renters directly and no commission or fee is charged on this. All you have to pay is the 20% commission charged for all payments through Tripvillas, which actually include everything; even all credit card and other third party commissions. No doubt it's a real value for money.
HOW DO YOU SUBSCRIBE TO TRIPVILLAS.COM'S POWER LISTING:
Registering and listing your property in TripVillas.com is very easy. You can follow the four easy steps listed there and when you come to the last stage of the listing process you will be asked whether you want to go for the 30-day Power Listing trial. When you check this button you will get the fields where you can enter your phone number, Skype ID, website url and brand name (name of your vacation rental or company name, if you have one).

Once done you need to click the 'Save and Finish' and your listing will appear in the moderator's queue for the final approval. Once the moderator of TripVillas approves the listing, you will be notified via email that your listing is live and you are ready to receive inquiries.