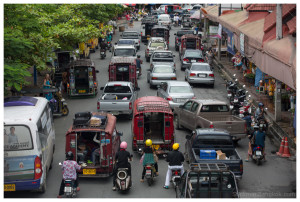 When coming to Chiang Mai the best way to get around town and the surrounding area is to simply hire a car and driver to take you wherever you need to go. It can also be the smartest way to go money-wise.
Some first time travelers to Chiang Mai think about getting their own rental car to travel around independently. My recommendation for most people visiting Chiang Mai, is don't do this.
First, car rentals are expensive. By doing a quick check online, you will see that a car rental for an economy car (the smallest car) will run somewhere between 1000฿ (USD $33) and 1500฿ (USD $50) per day based on a couple of weeks use. Second, the streets of Chiang Mai are very confusing for someone that cannot read Thai and is unfamiliar with the area. If you drive your own car, it is almost guaranteed you will get lost several times (even expats that have lived here a long time get lost all the time). And thirdly, driving in Northern Thailand, especially near the center of Chiang Mai is difficult because rules of the road are ignored by most drivers and there is a curious method to the madness that it seems only a Thai can translate. For an American used to orderly traffic flows, people stopping at stop signs, drivers using only one lane and obeying most other road rules, driving in the area can be downright terrifying, because rules of the road don't apply here.
Understand also that if you are in an accident, it is often the one that is best capable of paying for the damage that is made responsible, and if a foreigner is involved, they are usually picked by the police on the spot to take care of it. A passport is often confiscated until the situation is resolved.
Down in Bangkok, there are millions of cheap, comfortable taxis all over the city. You just have to stick your hand out, and in a couple seconds someone is there to transport you comfortably anywhere you want to go..
Chiang Mai is different. There are very few metered Taxis in all of Chiang Mai, and with those few taxis, it is often difficult to get them to pull the meter flag down. They want to negotiate a rate for each trip. I have seen countless numbers of arrivals waiting patiently near the doors of Chiang Mai International Airport looking for a Taxi to take them to their hotel, but the secret is that they probably won't even see one.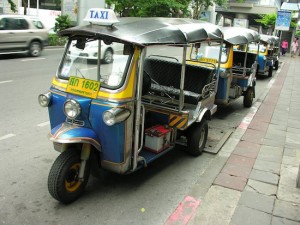 There are plenty of tuk-tuks (pronounced "took-took") in Chiang Mai, but they have no meter and want to come up with a charge for each trip on their evaluation of how much the passenger is able to pay. Be sure to settle on the charge with them before jumping on board. Sometimes you can find a good driver to hire for the whole day for a set amount, and this can be a lot of fun seeing everything in central Chiang Mai at least once.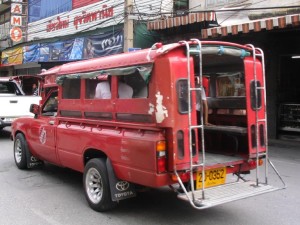 And what serves as the closest thing to a taxi in Chiang Mai are the Songthaew. These are small pickup trucks that wander around the city that have a covered passenger area in the back of the truck. They tend to only drive on the main roads, are a bit inflexible about going to a destination on a small soi (off street), and they seldom speak any English. Sometimes when you hop on board they won't take you to where you want to go until they are able to get a few more passengers. They are cheap, though, with short trips being just 20฿.
Buses? Forget about it. OK for the locals, but not good for a non-Thai speaking visitor.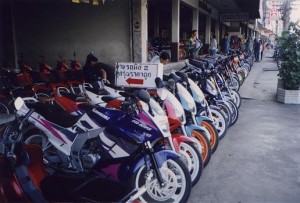 Another option is renting an automatic motor scooter, which is the main transportation for in Chiang Mai, both in and outside of the city. They are pretty cheap at 150-200฿ (USD $5-$6.50) per day, but you have to be comfortable with handling the crazy traffic on two wheels. These scooters are not difficult to drive. For a lot of people, this is a great option, maybe the best option..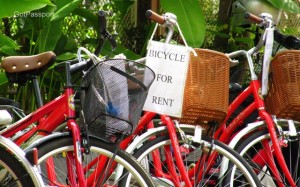 There are also bicycles for rent, and that's fine in the (flat) area of central Chiang Mai for those that want a bit of exercise as well.
In most places in the world, I would never consider a Car & Driver, but it is the best option in Chiang Mai for flexibility, cost and making your time here hassle free. Any hotel concierge or travel agency on the street can arrange a Car & Driver for you.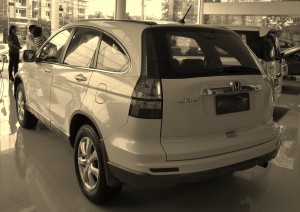 Cost for a car & driver to take care of you during your visit is about 1500฿ (USD $50) for the car and the driver (not much more than an independent rental) plus gas, which should never be more than 1000฿ (USD $33) per day, and likely half that amount. Sometimes the cost is a bit more, and sometimes substantially less. They will pick you up with a full tank of gas, and you will be expected to pay for that gas plus fill-ups.
The car that is used by these small enterprising car & driver companies are usually owned by the driver and are is almost always a fairly new clean car that is comfortable with AC. You will be picked up in the morning when you want to be picked up, taken straight away to where you want to go, and the driver will patiently wait for you until you are ready to leave to the next place or go back to your hotel.
If you are in Chiang Mai as a small group, there are many drivers with vans. These vans are bigger and more comfortable than most typical vans in the US, and have comfortable airline-style seating, good AC and a good sound system. The vans with driver usually cost a bit more than a car with driver; usually in the neighborhood of 2000฿ per day (about USD $66).
Drivers are usually very friendly and can assist you as a tour guide to a limited degree. Most speak limited "conversational English". If you have just a basic idea where you want to go, such as the "wholesale crafts villages south of Chiang Mai", he will know to take you right to the entrance of Baan Tawai Village, which is the largest of these. If you wanted something a bit different, he will you zip you across the town to the right place.
If you have hired the driver for driving, they can also be a good source of info about the area, but do not use them as a "Tour Guide", setting up an itinerary for you unless you hired him for that. That's another skill that is readily available to you, but not the role of your driver if you have not hired him for transport.
Many drivers will act as car and driver and tour guide. This can be a great way to make a great hassle-free holiday in Chiang Mai. As good example of a driver like this there is Bo. Bo is a highly experienced, certified tour guide who offers customized, individual tours in Chiang Mai and northern Thailand for individuals and small groups. Bo has a strong focus on fair, alternative and Eco-friendly tourism. His all day Chiang Mai tours with his own car will run about 800฿ (USD $26) per person. Bo's website.
Car-Driver-Tours can be quickly arranged by your hotel concierge or any of the multitude of travel agencies around town.
Here are just a few more Chiang Mai driver-car-tour guides that have websites:
Thailand Private Drivers – Mr. Lee – Chiang Mai Carnival Tour – Thai Kingdom – Sabai on Wheels
These car-driver-tour companies have not been tested by me, so I cannot endorse any of them, but welcome any comments from anyone that has, along with suggestions to add to the list.
Many car & driver people and car-driver-tour companies are very small (like one guy) and don't have a website. These very small operations can still be dependable with good vehicles, and are often the best value. If you would like the American Expat to hook you up with one of these people that I can recommend, just shoot me an email.
Payment for services are done at the end of the time you are working with the driver. If he will be driving for you for three days, a full payment would be expected at the end of the three days when he takes you back to your hotel (or to the airport, or wherever is end of your time for him). Tipping is appreciated, but understand that Americans tend to over-tip, so try not to be guilty of that.
Hiring your own personal car and driver is going to take most of the hassle out of your stay in Chiang Mai, and I can say this is an investment that is well worth it.
To get more information & assistance, please submit the form below and our specialist will get in touch with you at the earliest.