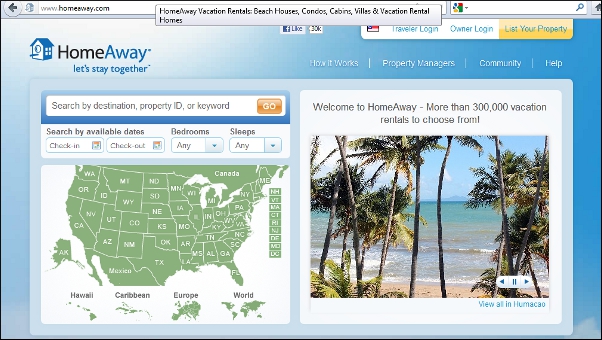 HomeAway.com is considered the world's most complete vacation rental marketplace, offering the easiest way to find vacation properties online. With real-time calendars and multiple photos, HomeAway connects travelers with the perfect rental, from condos to castles and bungalows to villas.
So I thought why not do a review on this website operated by HomeAway Inc. which also operates other websites, including VacationRentals.com for vacation rental deals; VRBO®, which specializes in vacation rentals by owner; and other country-specific vacation home listing websites. Since HomeAway.com is not a new website to the Indian market, I have tried to review the website from the perspective of the Indian traveler and owner.
Without doubt the homepage is very neat with the ability to choose destinations from the map. There is exhaustive information on the properties and travelers can send emails to owners after reviewing the property.
However from the Indian point of view although the website claims to be global vacation rental marketplace, it has very less properties. So I don't see travelers profiting from it. Even for travelers outside India who are looking for an accommodation in the country, the website it a disappointment with just 84 properties. Most of the good locations don't even figure in the website. Surprising I would say! With more than 80 million travelers visiting the website in a year, Indian vacation home owners should have shown some confidence in HomeAway.com to get guests.
When I tried to find the root cause of why most Indian vacation rental owners shy away from listing their property in the website, I found that unlike the market norms of the property listing website taking a commission on each booking, to list your property on HomeAway.com website, the owner needs to choose from the five subscription categories by paying a yearly fee – classical, bronze, silver, gold, and platinum. And more you pay the better will be the ranking of your property. This I found a little odd because even if my property is not good, if I opt for a platinum subscription, my property will be ranked above properties, the owners of which have opted for the less costly subscriptions.
Plus, even for the platinum subscription which will cost the owner around $ 1000 (approximately Rs. 55,000), the website lets the owner upload 24 photos, reviews, availability calendar, and a map, which other vacation rental websites give for free. Plus, if you want to target travelers, from say, the US or UK, you can register your property in these country-specific websites of HomeAway.com, but have to pay between $229 and $225.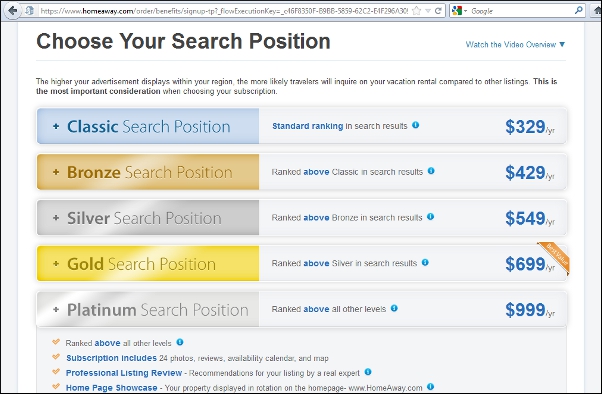 HomeAway.com do offer a 'No Booking, No Fee Guarantee' program to owners, wherein if the owner does not get a single booking in a year, his fee would be refunded. But the question is if you are paying around Rs 55,000 and getting only one booking is it worth spending this sum on a subscription in HomeAway.com?
So after a thorough review of the website, I can safely say that, while HomeAway.com may be the No. 1 holiday home rental website in the US, it is not recommendable for Indian vacation home owners and neither would I recommend it for travelers coming to India and wanting stay in a vacation home.
To get more information & assistance, please submit the form below and our specialist will get in touch with you at the earliest.