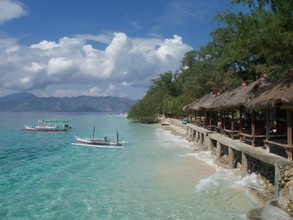 There is no simple answer to the question on 'how much does it cost to live in Bali?' Cost of living in Bali depends on a variety of factors such as the type of accommodation you choose, whether you eat local or Western food and whether you drink alcohol. Regardless of your choices, there are some rules of thumb that you can use to give you an indication how much you will need to live on when you move to Bali.
Accommodation
The biggest expense by far will be accommodation, and this is the one that can have the largest variation in cost. If you are planning on purchasing a property in Bali, the cost will vary depending upon the location you are purchasing in and the type of property. Property prices are more expensive the closer you are to tourist areas, such as Seminyak and Jimbaran. Here a two bedroom villa can cost from US$170,000, and prices can be much higher if you are looking at a larger and well appointed property. North Bali is much quieter and economical, with two bedroom cottages starting from about US$60,000. You can find out more about some of the hotspots to purchase property in Bali in our article here.
If you are planning to rent when you move initially, the cost of accommodation will vary depending upon whether you are looking at short-term or long-term accommodation. For short-term accommodation, there is an abundance of cheap accommodation however it will come with no air-conditioning and cold water. For something more comfortable, there are plenty of mid-range hotels that start from US$100 per night in the popular areas like Seminyak and Kuta. For something more inexpensive you can also try smaller towns such as Sanur. There are also many luxury hotels that cost upwards of US$200 per night. An alternative could be renting a holiday home, our publisher Tripvillas has many options of quality homes to rent here.
For long-term rental accommodation, once again the price will vary depending upon on location, quality and size of the accommodation and your negotiating skills. It is possible to find a comfortable furnished apartment in Seminyak for US$500 per month, with larger more luxurious apartments renting for US$2,000 or more per month.
Food and Beverages:
Food prices also vary considerably in Bali depending upon whether you cook from local produce, or eat out at fancy western style restaurants. If you eat at local places you can expect to pay from US$2 to $5 for a quality meal. For western style food at a mid-range cafe or restaurant (for example a pizza at the local cafe) prices are slightly higher at between US$5 to $10. At high end restaurants costs escalate considerably, and can cost from US$30 to $100 for lunch or dinner.
Of course purchasing local produce and cooking yourself is a much cheaper option. If you eat at a local restaurant three times a week and eat at home for the rest of the week, two people could eat well on less than $400 per month.
Alcohol is a significant expense in Bali and can increase your cost of living considerably due to high taxes. Local beer is the cheapest option and can cost about US$2 for a 12oz bottle from the grocery store. To drink the same beer in a bar will cost US$3 or more, depending upon the location. Imported beer will cost about twice that of local beer at the same establishment.
Cocktails and spirits also vary considerably depending upon the place you choose to drink them. At a local bar prices start from about US$6 and can be as high as US$20 at a fancy venue.
Transportation:
There are several options for transportation, from renting a motorbike to catching taxis. A well maintained motorbike can be rented on a monthly basis from US$80. Whilst fuel costs vary, it can cost as little as US$2 to fill up the tank of a motorcycle. Renting a car will cost considerably more than a motorcycle, with daily rates starting from US$20 per day, however you should be able to find a monthly rental from US$250 per month. Petrol and maintenance costs will also cost an additional US$200 per month, of course this will vary depending upon how much the vehicle is utilized.
Taxis are not as convenient as having your own transport, but are also relatively inexpensive. A rough rule of thumb is that it will cost approximately less than US$1 per kilometer, but this can also be negotiated with the driver.
Utilities:
Internet connections are improving in Bali, but have been known to be quite slow, so it is worthwhile paying for a fast connection. If you have your own place, then you can access a high speed internet connection for approximately US$150 per month. It is possible to find cheaper options but they may compromise on speed.
Electricity costs will depend upon the size of your property, how often you use air conditioners, if you have a pool and the type of lighting you have. The cost for a small house, primarily using fans and without a pool would be about US$35.
Gas for cooking is another small expense, which is usually less then US$10 per month.
Staff:
Whilst not essential, you can employ a maid to clean for you. For a part-time maid costs start from about US$120 per month.
Other costs:
Depending upon the type of visa you have and whether you are self-employed or on an expatriate package, you may need to bear the cost of renewing your visa. If you have only a short-term entry visa then you may need to leave the country every 6 months to renew your visa. This can become a considerable expense depending upon your home country and the size of your family.
Inflation can be high in Bali, and will also impact the prices estimated here. However these provide a general guideline of what to expect when you move to Bali and should assist you in determining your budget before you make the big move. We do recommend that you spend some time in Bali before moving there to familiarize yourself with the different parts of the island, and also to get a feel for the type of costs you are likely to incur.
To get more information & assistance, please submit the form below and our specialist will get in touch with you at the earliest.