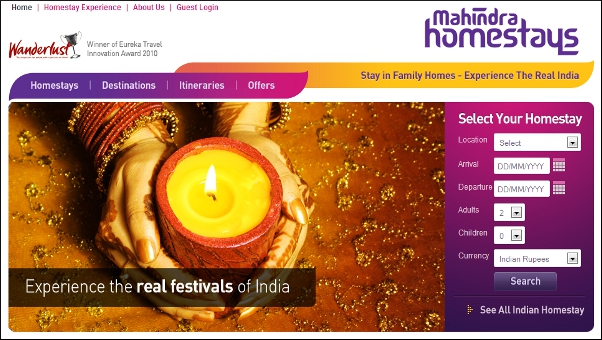 When I started reviewing the mahindrahomestays.com website, I thought I would have a lot to write about the website, considering that it is part of a large hospitality brand. But in actuality it comes across as another listing website for homestays in India.
Launched in 2008, the website boasts about its 300 homestays listed in its website, which are supposed to be premium homestays. The only two advantages I see as an owner to list my homestay with Mahindra Homestays Dotcom is its brand value and a functional call centre. While the former has some value, most of the homestay listing websites have a call centre today to guide travelers wanting to book a stay.
The webpage that Mahindra Homestays claims to give the hosts to showcase their property is the listing page which has a description of the homestay, images of the property, guest reviews, list of facilities, activities in and around the homestay and the booking facility – options which even an average homestay listing website in India will give the owner.
The other advantage I see here of listing my homestay with mahindrahomestays.com website is that I can benefit to a certain extent from the company's aggressive online and offline advertisement.
Having said that, a concern I see is that, in many locations Mahindra has its own properties. As such will this fact hold them back from marketing the homestays in the same destinations?
While listing in the mahindrahomestays.com is free, it charges a commission of 30 percent for each booking from the owner, which I find a little steep considering that most websites takes a commission of 20 percent. Plus, if I'm listed with them, I will not be able to list in any other homestay listing website, so I have to rely solely on Mahindra Homestays for guests.
To get more information & assistance, please submit the form below and our specialist will get in touch with you at the earliest.