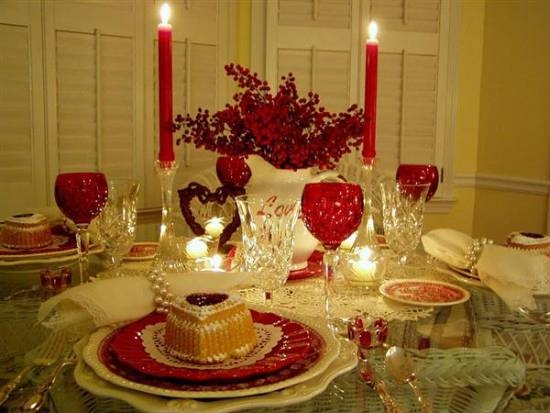 With Valentine's Day round the corner, it's time to add that romantic touch to your holiday home décor for guests who have opted to stay in your property.
It may not be one of those elaborate makeovers, but special days like these guests, particularly couples want to spend time together. They might want to celebrate the day at home instead of going out for an elaborate candlelight dinner to some fancy restaurant. To build up the mood of your guests you can create that unique look at your holiday home to enable your guests to spend a moments of togetherness.
Since color plays an important role in influencing the mood of your guests, all you need to do is play with colors. Here are some tips on what you can do to set the romance in your holiday home:
To create the ambience, put red and white curtains in the living room. Spice it up further with a couple of paintings or pictures on the wall that depict romance or love. Place a couple of potted plants that bear white and red flowers or leaves.
Decorate the bedrooms with more of vibrant colors. Use red curtains and a white bed sheets and sprinkle rose petals on the bed if your caretaker or property management company can arrange for. Also use red vases, and red quilts. Use heavy fabrics to add warmth. Velvet always lends that little extra to the feel. Look out for bed sheets and cushions in rainbow colors. Add on multiple cushions as they add to the cozy feeling to create a romantic bedroom.
On special days, like the Valentine's Day, a surprise is keenly anticipated by guests and doing something special to make it delightful will leave great memories in the minds of your guests. Surprise your guests by using a red table-cloth on your dining table for a cozy and romantic dinner. Place a vase with roses and place a candle stand next to it in between your table arrangement for a romantic candlelight dinner. Also use darker shades for table accessories like napkins, napkin rings, and coasters.
Rugs not only feel good, but also add color and texture to a room. You can use red or pink rugs in all the rooms. If you don't have red or pink rugs and have decided to buy, remember you can use them again next year. All you need to do is dry-clean them after the Valentine's Day and store them properly.
Candles are the simple way to set a romantic mood because they add a soft, romantic freshness to the surroundings. So position candles strategically around your holiday home for guests to light them and create a romantic ambience. Aroma is also is another way to suggest romantic impressions, so you probably opt for some perfumed candles instead of the regular ones.
Just small, thoughtful touches like these to your holiday home décor can light up the Valentine's Day for your guests. So this Valentine's Day go ahead and make their stay in your holiday home something to cherish their entire lives!
To get more information & assistance, please submit the form below and our specialist will get in touch with you at the earliest.