Before we go to our review on Flipkey.com let us take a quick overview of TripAdvisor.com which owns it.
For the last couple of years it has been a norm for me, like million others, that I check the reviews of the accommodations on TripAdvisor before booking one. And why not! TripAdvisor is the world's largest travel-review website and traveler reviews can really affect one's decision-making to an alarming extent.
Well, that was till I read this article on The Daily Telegraph, the news daily published in London and distributed throughout the United Kingdom and internationally. In the report Charles Starmer-Smith, the Head of Travel for Telegraph Media Group brought to fore the horrifying loopholes in the website.
He in fact uploaded a fictitious nine-bedroom guesthouse using the address of the Telegraph Media Group and a picture of the office canteen which was rated by TripAdvisor in London's top 70 guesthouses. To read the entire article click here….
That was in 2010 when the report was published. I really hope (for the sake of the millions of visitors who visit the website each day) that TripAdvisor has come a long way and the loopholes mentioned in the report have been plugged.
TRIPADVISOR TRAVELER REVIEWS AND RATINGS:
Today TripAdvisor enables and encourages travelers to review hotels, vacation rentals, restaurants and tourist attractions and rate them. No doubt on most occasions I found these reviews and ratings bang on. Having said that these have been a few instances where I found that the negative reviews were over the top and written by some overly demanding guests. Since views of reviewers will depend on their personal experiences, the fact that the overall rating of an accommodation may come down due to a few personal views don't go down well. I remember reading a review where he trashed a particular hotel because the reviewer didn't get his brand of drink is something that I thought should not have brought down the rating of the place, which I found out personally when I stayed in the place.
TRIPADVISOR'S VACATION RENTAL WEBSITE, FLIPKEY.COM: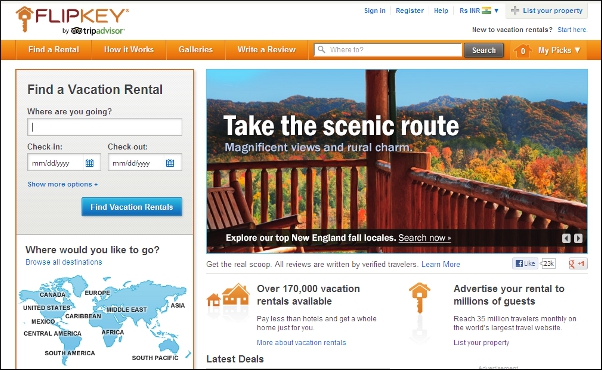 Flipkey.com is majority-owned by TripAdvisor and focuses on the vacation rental. While the website is like any other vacation rental website that allows owners to list their property and travelers to search for an appropriate accommodation, the fact that listing one's property with Flipkey gives the added advantage to owners whose property is also featured on TripAdvisor.
LISTING ON FLIPKEY.COM:
For owners to list their property on Flipkey, she/ he can first tryout the 60-day free trial and then move on to the paid subscription which are priced from USD 419.88 onwards. But the fact that Flipkey is charging lesser subscription fee for those posting multiple properties (USD 150), as a holiday home owner I tend to think if the website is more inclined towards property managers listing their properties rather than individual owners of holiday homes. Since an average individual owner will never be able to match to the aggressive marketing strategies of property managers, I will certainly wait for some time before I put in my money on Flipkey.
To get more information & assistance, please submit the form below and our specialist will get in touch with you at the earliest.