As the New Year dawns before us, E-cards can a great way to not only wish your past guests, but also to remind and invite them to take another vacation at your property. You can personalize what you want to send and it is easy and free. Today E-cards have become an acceptable means of appreciating your previous guests at the end of the year for their patronage.
But first of all what makes a good e-card!
1. Try to keep it simple and limit the e-card to the simple message that you want to wish them well this holiday season. Unless an email from you to your past guests is a rarity, save the marketing-speak and requests for Facebook likes for another email.
2. Too much of images will make it heavy and thus frustrating for receivers. So use a judicious mix of images and text to greet your clients, all the while, subtly passing on the message about your holiday home business.
3. Take some care with the words you would use. Don't write an essay on your holiday home, nor should you make it very informal. The point here is to create a long-lasting image of your property in the receiver's mind, without taking too much of her/ his time in reading what you have written. Give a brief of not more than a paragraph on your holiday home so that the receiver remembers the context of the e-card, if he had forgotten. Add the – name of the property (if you have one), contact details (telephone, email and Skype id), website/ listing url (like tripvillas.com/property/2xxxxxxx/) on the sender details.
4. Consider the profile of your guests. Are they tech-savvy or they the type of people who primarily work offline or who frequently check their email? Based on these, choose your e-card carefully. If you intend to use Flash animation, just remember that if your guests are iPhone and iPad users, they will not be able to see the card.
Now to preparing and sending an e-card:
1. First things first! Organize the email addresses and make sure they are accurate.
2. Prepare a collage of your holiday home. I find Collage Maker an easy way to create and download one. Include images that show your property in a good light and also of images showing the different hues of the seasons in your location. Give a couple of images that show the activities on can participate in if they stay in your property. In a nutshell, the collage must shout out loud that your holiday home is a fun place!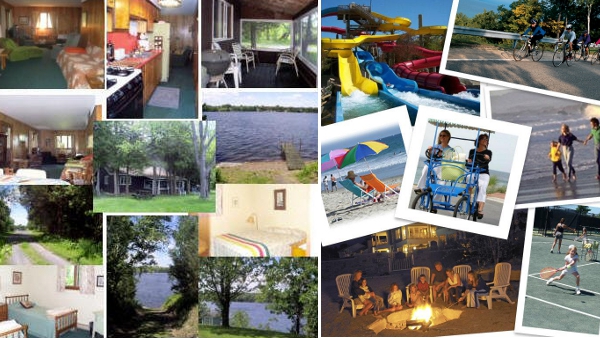 3. Now select a reputable email marketing service. Do some research to ensure they are not just a spam-like system who take all of your email addresses and start spamming them. Email services of MailChimp, ConstantContact, VerticalResponse, and others are best, although I personally find MailChimp more convenient. It is easy and offers many personalizing options.
4. Test the card out first! All these email services have a way to test, before you push the final SEND button.
5. If this is your first year to send an e-card and you want to keep it simple, maybe you can start out using an e-card provider. Although they enable you send e-cards with ease, the only issue I see is they offer very little personalization. However if you are OK with it then you can still send one using one of these e-card providers: BlueMountain, American Greetings, Egreetings, ECO2greetings, 123greetings, Hallmark, Jacquie Lawson, Smilebox
A NOTE OF CAUTION: If you opt to send an e-card using your email make sure you embed the image and do not attach an image or a pdf card, because the devices they may be using may not support them and will only annoy them.
Hope the article makes things easier for your now! Go ahead, send an e-card to your past guest this season and be assured of receiving not only repeat bookings, but also inquiries from referrals. HAPPY HOLIDAYS!
To get more information & assistance, please submit the form below and our specialist will get in touch with you at the earliest.