For owners of holiday homes, it is no doubt a strenuous task to cater to short-term guests or weekenders because it involves a lot of hands-on pre and post preparations of the property. The owner needs to hire a caretaker, a cook and a cleaning person or housekeeping, because almost all short-term guests taking a break from the busy city life want to be pampered like in a hotel. Thus unless you stay close by or are running a bed and breakfast facility, complying to the needs of the weekender or short-term guest becomes very hectic.
Meanwhile on the other hand there are travelers who would love to stay for longer periods – say a week or even a month or more. And here lies the solution to the problem that owners face on frequent changeovers. The solution is to attract this segment of long-term renters by making their rates more attractive to them. Because long-term guests ideally need a property that feels like home, providing a housekeeper, a caretaker and a cook usually do not arise. While the owner can provide these guests a no-frills property, he can however help them with contact details of these providers should the guest ask for them. Having said that, to attract this segment of guests, owners need to have different discounted rates based on weekly and monthly basis.
TripVillas, the largest Holiday Home Rental website of Asia, understands the importance of long-term guests and in their pursuit to give owners the freedom to set weekly and monthly rates for their holiday homes, have recently launched its RATE MANAGER feature. After the recent launch of its BOOK NOW facility, the RATE MANAGER feature is another big step towards TripVillas' ultimate goal of providing holiday home owners listed on its website an edge over others.
With the launch of this new feature, owners can now set special discounts for bookings of a week or a month. They can set the percentage of discounts on the rental and if the discounts are above 25% for weekly rentals or 40% for monthly rentals they get a special badge on their listings that highlight these discounts to all customers.
Owners can really benefit by adding their weekly and monthly discounted rates because these badges (refer to the image below) will appear on your listing in the search results of the website. A traveler who is searching for long-term rental on the website, the badges appearing on the search results will definitely increase the chances of him clicking your listing and subsequently booking it.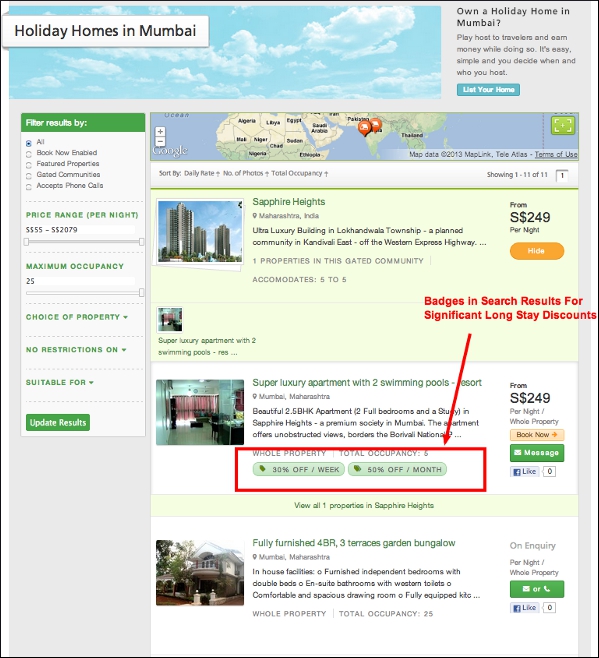 So why wait? Login and go to your Dashboard to set your weekly and monthly rates now!
To get more information & assistance, please submit the form below and our specialist will get in touch with you at the earliest.