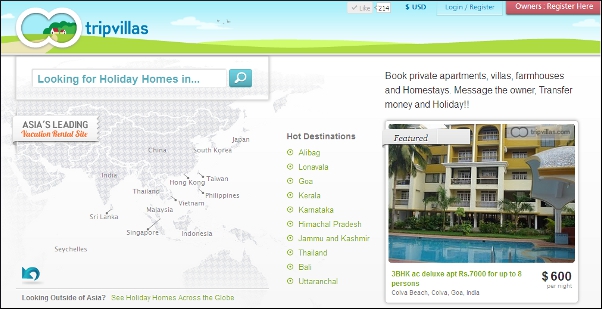 It is a saying that aptly applies to owners of holiday homes and homestays that do not put all the eggs in one basket. For a holiday home owner, his first step to marketing his property is to list it in a vacation rental website. These websites are high on traffic, are highly ranked in search engines and give owners an easy-to-use interface to add his property details and images, etc. Plus, these vacation rental websites give guests the ability to add reviews and can drive travelers easily to your property listing, where they can book their vacation. Because most of these websites are highly secured, the inquires you receive via them are mostly genuine.
Vacation rental websites have various models of revenue generation. For instance, websites like HomeAway.com, VRBO.com, etc. charge owners a subscription fee to list in their websites, while there are others like TripVillas.com (Disclaimer: Tripvillas owns the Holiday Home Times) who don't charge anything to list your property, but takes a commission on a booking.
Once you have decided to  list your holiday home/ Homestay in one or several vacation rental websites, you need to first take into consideration a couple of things:
1. Target audience: Several vacation rental websites have good presence in a particular country or region, while they might have almost negligible presence in many other countries/ regions. For instance, websites like HomeAway.com have a good presence in the US and European markets, but are yet to make an impact in the Asian region. Meanwhile, websites like TripVillas.com – our publisher, have a good presence in the Asian markets but limited focus or coverage on the Western Hemisphere.
2. Owner oriented versus agent/ property manager websites: Many vacation rental websites allow property managers and agents to list properties of their clients. Because agents have more properties and are well equipped to market their properties more aggressively, genuine owner listings in most cases are pushed down in rankings and don't show up in search results. Take for instance the Roomorama.com website. The website has a huge presence of property managers and agents posting the same property several times giving an impression of a junk inventory to travelers. As such, travelers may shun the website to search their vacation accommodation. So when you are listing your property make sure that you list in a vacation rental website that has good properties directly listed by owners themselves.
3. Paid versus free listings: I always recommend free listing vacation rental websites. The reasons being: (i) You need to pay only when you are earning. (ii) Because free listing vacation rental websites give you everything that a paid listing vacation rental website gives you, in terms of the owner interface, etc. (iii) Since free listing vacation rental websites earn when the owner gets bookings, they work harder to ensure that the properties listed in their website get maximum exposure, thus making your marketing efforts easier.
So based on my experience, I have listed 10 vacation rental websites. Based on their merits and region of operation you can list your property accordingly: