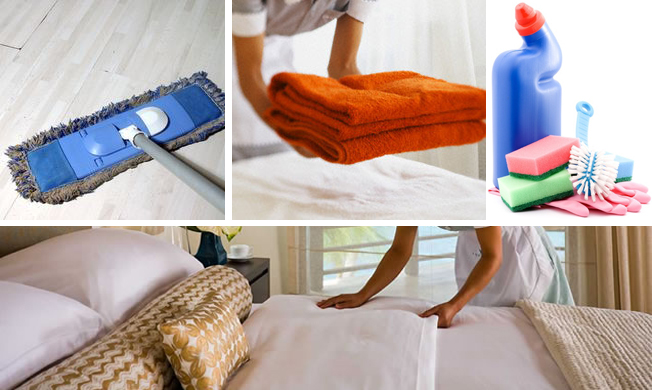 Good, reliable and flexible housekeeping services are the lifeline of a holiday home. Housekeepers are the eyes and ears on the ground, and therefore, an invaluable asset to any holiday home owner. So, as a holiday home owner, it requires to be thorough while recruiting them.
1- Flexibility during odd hours: This is a key concern area. In general, we go ahead with an understanding that housekeepers will arrive on time and carry out all tasks. But today's housekeeping services need to go beyond set timings. Housekeepers may have to work during odd hours depending upon the needs of the guest.
2- Back-to-back rentals: Another important area is back-to-back rentals, when you have one group checking out and another checking in on the same day. You need to check if your housekeeper can handle such a situation.
3- Public Holidays: Also on the list are public holidays; guests tend to rent out during holidays, so the housekeepers cannot take a vacation during this time.
Other things you need to check include the speed at which your housekeeper works and thus how many chores can be completed within a given time, and also if they carry any household equipment with them to use while they work.
It is better to opt for professional housekeeping firms whose staff are educated, experienced, responsible and have a good sense of hospitality. In the end, this proves to be profitable.
Another suggestion is to hire an additional housekeeper who offers services especially during the weekends. But this will cost you extra.
The credibility of the housekeeping staff is also a vital factor. If required, consult the owners in the areas nearby. Since they are already using these services, they can give you a better picture in this regard.
It is essential to describe the role clearly to a housekeeper, to explain what's expected and ensure timely delivery of the work.
Keep in mind that hardworking, trustworthy and flexible housekeeping staff – always available when you require them most – can give your holiday home a great reputation. While keeping a regular housekeeper is a hassle, a flexible or part-time housekeeper, on the other hand, can reduce issues easily.
To get more information & assistance, please submit the form below and our specialist will get in touch with you at the earliest.