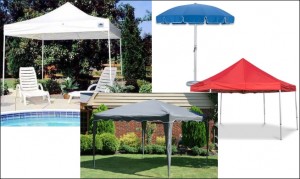 Invariably, a garden or lawn of a holiday home is a huge draw for vacationers. There is nothing better than to relax with a refreshing drink in the great outdoors during a vacation. But if the bright sun and sweltering heat is the reason your guests refuse to step out, have you thought about setting up a detachable outdoor shade?
While garden umbrellas are most commonly used in homes, the shade provided by these, are very limited and cannot accommodate more than 2 to 3 guests. Garden shades also need to be adjusted with the direction of the sun. So when there are more guests in your holiday home you need to go beyond the garden umbrella.
Outdoor Shades:
Coming back to outdoor shades, with a wide range of options available in the market – from backyard shade canopies, portable sunbrella canopies to retractable awnings – you can encourage guests to step out into the sunshine and enjoy your garden, pool, patio, or deck to the fullest.
With covering now provided, your guests will relax in the cool comforts of the shade on even the sunniest days. With a little intelligence you can also create an outdoor living room where guests can enjoy the fresh air or just rest in the afternoon by the pool, or where children can play and still be protected from the harsh rays of the sun.
Materials, Portability and Setting up:
Outdoor shades come in various forms and are made from different materials. The materials used are lightweight and portable. Most of these structures are usually designed as one-piece units. They can be folded and compactly stored when your holiday home is not occupied.
Most portable shade structures can be set up in a few minutes and are highly adjustable, maximizing shade all day long. They come in a variety of sizes to fit just about everyone's space requirements, and in a wide selection of color schemes to match every taste and house exterior. Available in various widths and lengths, these portable outdoor shades add a wonderful touch of elegance and refinment to your holiday home.
Lastly, it works out great for home owners, since guests staying outdoors reduces the use of your interiors, resulting in less wear and tear!
To get more information & assistance, please submit the form below and our specialist will get in touch with you at the earliest.