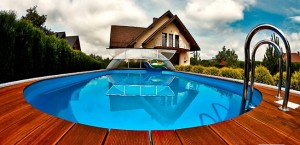 Have you always wanted to use your swimming pool the whole year round, even when raining or snowing, when windy or cold, and even at night? During winter and the height of summer, the pool is either never used or at best, used sparingly. This is precisely where a telescopic swimming pool enclosure comes into play.
Firstly, what exactly is a telescopic poor enclosure?
A telescopic pool enclosure not only combines all the advantages of a traditional swimming pool, but also incorporates the ability to telescope back over the swimming pool. This sort of enclosure can double one's usage of the swimming pool.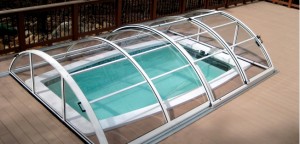 With reduced heating for 6 months of the year, it will then extend the usage of the pool to all year round with heating. It will also reduce the use of chemicals, substantially reduce cleaning and save you money all round!
Telescopic pool enclosures extend the useable swimming time of one's outdoor swimming pool. These enclosures are made of the highest quality components to withstand high temperature variations as well as humid, chlorinated and salty environments. Most telescopic enclosures comprise telescopic modules like stackable tables that roll on the pool deck. The individual modules are moved manually or automatically to create the desired pool environment based on the season.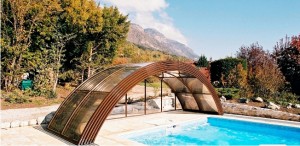 If you are a home owner who has invested in a swimming pool, you would definitely want to keep it clean and secure, extending its use and also saving a great deal of maintenance, time and money. Investing in a telescopic swimming pool enclosure would certainly help you in this regard.
Today, enclosures for swimming pools are available in different styles to suit one's garden and location, from low and subtle, to beautiful glass houses, and air dome protection. Whether you want to make a feature out of your pool or blend it subtly in with the exteriors of your house, there is an enclosure to suit your taste.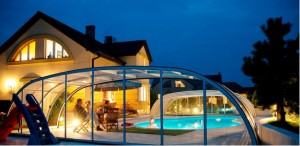 The best part of a telescopic pool enclosure is that your pool will cost less to run, as you avoid losing heat which is generated electrically. In fact the enclosure will generate heat for free through its natural solar action.
The many benefits of a telescopic swimming pool enclosure include:
Extending the pool season without extra heating costs

Trapping the heat produced by sun rays or heated water

Lowering water heating costs by preventing temperature loss

Making pool maintenance, water monitoring and chemical dosing easier

Shortening pool maintenance time

Keeping water free from dirt

Limiting damage to the pool during winter

Preventing accidents like children falling into the water

Offering the pleasure of open-air swimming on hot days

Saving Energy
In India: Although the concept of telescopic swimming pool enclosures in the country is in its nascent stage, one company, Patio, has made its mark in the sector. Headquartered in Bangalore, the company offers a wide range of swimming pool enclosures and other outdoor accessories. For more details one can contact Patio at:
Address:
Lakeview Farm, Ramagondanahalli
Whitefield – Varthur Road,
Bangalore-66
India
Telephone: +91-080-2854 3865
Mobiles:
C.K.Chengappa: +91-9945887000
D Suraj Pemmaiah: +91-9341246349
Emails :
Chengappa@patiobangalore.com
patiobangalore@gmail.com
patiofurnitures@yahoo.in
To get more information & assistance, please submit the form below and our specialist will get in touch with you at the earliest.