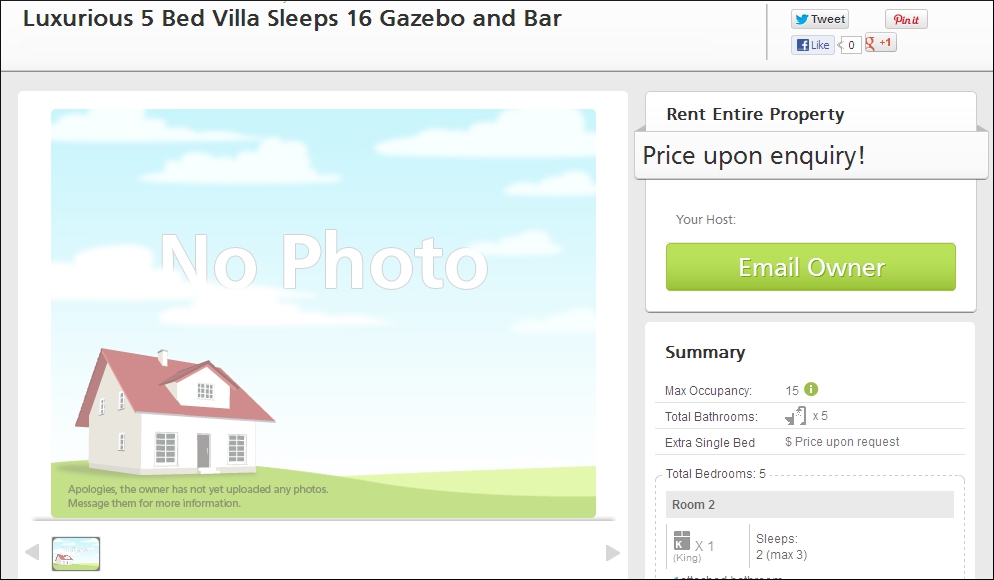 For a traveler looking to book an accommodation, the second thing after he has decided on a location is the budget. He has three expenses which he will have to take care of when he is planning a vacation:
(i) Traveling, which is a larger chunk of expenses that will be incurred and he has really not much say about it.
(ii) Accommodation: This is the second largest component of his budget in terms of expenditure. The traveler has great freedom here to make how much he will spend depending on what he chooses to stay in during the vacation.
(iii) Eating out/ Shopping: Most travelers cut down on the expenses here to ensure that the first two are met to their satisfaction.
In this article we will only discuss the traveler psyche when they are looking for an accommodation and eventually booking it and how tariff rates of a vacation rental/ homestay ad can play an important part on this. Now when a traveler starts searching for an accommodation, he will first look at the tariff rates of the property even before he goes to read the property description or its images.
However many owners feel more comfortable by not adding the tariff rates of their properties in their vacation rental ad. While not mentioning the tariff may be advantageous because the owner can quote a price when the traveler contacts him based on demand and season circle, this can have detrimental effects too. I really recommend owners to always mention their tariff or rate card in their vacation rental ad. Here are the reasons:
1. When a traveler is booking his accommodation online, he is doing so because he wants all the information instantly and in one place so that he can decide immediately. By not mentioning the tariff, you are actually giving just half the information on your property. Travelers usually don't wait just to know what your tariff plan is, when there are many other properties he can choose from.
2. By not mentioning your tariff, you are actually lengthening the communication line from the first inquiry to booking. By not mentioning your rental in your ad, you are opening up an unnecessary line of communication where you will be answering to inquirers asking for your tariff rates. Sending them the rates does not necessarily mean they will actually book your accommodation – many might find your rates high and others might find it under-priced. So, where a traveler could have decided on this in a second had you mentioned the rates in the ad, it took him hours to get the very same information. No wonder why travelers give a cold shoulder to ads with no rates mentioned.
3. By not mentioning your tariff rates in your vacation rental, you are actually left with answering to many unnecessary emails and calls of travelers, which could be easily avoided.
4. Most vacation rental websites lets you change your tariff any time you like. So why not use this! Based on the off-season or season calendar of your location, change the tariff card accordingly instead of leaving it blank or 'Price on request'. For instance, if your ad is listed on TripVillas, you are given an interface from where you can change your tariff rate. However, changing your tariff rates too often can also go against you.
5. Search for properties in a vacation rental website and look at the search results. If you were a traveler would you have bothered to even look at the ad where the tariff is not mentioned? Probably not! So why not mention your rental tariff in your vacation rental ad then!
To get more information & assistance, please submit the form below and our specialist will get in touch with you at the earliest.